- 2008 Best Spa in San Mateo County - Nominee -
- As featured on KRON 4 TV "Spa Spectacular 2007" -
- 2003 Excellence in Skin Care - Award Winner -
MIND | BODY | SOUL
Inspiration: in·spi·ra·tion - noun
1. Stimulation of the mind or emotions to a high level of feeling or activity.
Our mission is to provide you a personalized spa experience, where you feel rejuvenated and inspired. That's our inspiration. We cultivate the experience and the techniques we've learned over decades to provide treatments in a calming atmosphere that will take you away from the stressful modern world and provide a soothing escape to a peaceful place.
Our goal is treatments that transcend just the physical aspects of looking and feeling your best. The experience, in fact, should be one of harmony achieved by balancing the Mind, Body & Soul. We invite you to take a break away from the everyday and regain your balance as we pamper you with our treatments.
Mahin Shafai, Founder & Lead Esthetician
Always appropriate Gift Guide below, and also look to the right for our current Special Offers:
.
.
.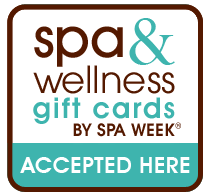 Inspiration is proud to be partnered with the best gift card & certificate companies on the Internet and we gladly honor them from the following: