- 2008 Best Spa in San Mateo County - Nominee -
- As featured on KRON 4 TV "Spa Spectacular 2007" -
- 2003 Excellence in Skin Care - Award Winner -
MIND | BODY | SOUL
Inspiration: in·spi·ra·tion - noun
1. Stimulation of the mind or emotions to a high level of feeling or activity.
Our mission is to provide you a personalized spa experience, where you feel rejuvenated and inspired. That's our inspiration. We cultivate the experience and the techniques we've learned over decades to provide treatments in a calming atmosphere that will take you away from the stressful modern world and provide a soothing escape to a peaceful place.
Mahin Shafai, Founder & Lead Esthetician
Always appropriate Gift Guide below, and also look to the right for our current Special Offers:
.
.
.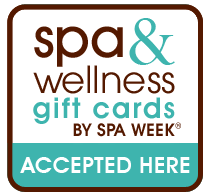 Inspiration is proud to be partnered with the best gift card & certificate companies on the Internet and we gladly honor them from the following:
www.spawish.com www.spafinder.com www.spaweek.com
Providing the best day spa facial services in the Menlo Park, Atherton, Palo Alto, Woodside, Portola Valley and surrounding communities